Become a Show, Performance or Season Sponsor
There is still time to be included in the Playbill for CLUE THE MUSICAL.
The WCT Playbill is a great way to advertise! As always, our ads are viewed by consumers who appreciate your involvement with WCT and in return support your business. The WCT Playbill program incorporates interesting articles and information as well as business ads that are read by our patrons as they experience a night at their community playhouse. Advertising in the Playbill helps your business and ours!
(For more advertising opportunities please contact Chrystina Patterson ?702-686-6953)
?You may mail-in your business card w/payment to:
Willits Community Theatre
P.O. Box 80
Willits, CA 95490
Thank you …
Les Schwab Tire Center of Willits
NC Financial

for Underwriting our 2019 season!
And 
Ace Copy Center, JD Redhouse, Savings Bank of Mendocino County, Yokum's Body Shop for your Support as Season Sponsors!


And
Celtic Heritage Destinations Travel Agency of Willits
for sponsoring the Celtic Concerts in the Guest Artists Performance Series
~*~*~*~*~
Become a Guest Artists Performance Sponsor for $75!
Contact  WCT Office at 707-459-0895 or WCT@WillitsOnline.com
~*~*~*~*~
Become a Season Sponsor
Underwrite a single production:
For $100 your name will be included during the run of the production….
      highlighted in the playbill
      acknowledged in the pre-show announcement
 For $500 – in addition to the above benefits, your name and logo ….
      will appear on all promotional written material including social media and on our website
       will be delivered to 1400 local households through mass mailings including postcards, brochures & newsletters
OR…
Underwrite our full season!  A bigger bang for your buck!
         For $2000 you will receive…..
         All previously listed benefits
         Acknowledgement for the entire year for every Main Stage Play, each Staged Reading and all Musical Concerts
         Promotion in our lobby display as a season underwriter
         One pair of season passes good for ALL WCT Main Stage productions and Staged Readings
          Invitation to Annual Gala party event
Play a Leading Role by Supporting the WCT!
Contact Us for Easy Payment Options
Why the WCT?
For 42 years the WCT has been part of the community, bringing live entertainment to audiences of all ages.
Join our family of supporters and enhance your business image as a valued member of the Willits Community!
Willits Community Theatre,  PO Box 80 Willits, CA 95490
phone: 707-459-0895
e mail: wct@willitsonline.com
 ~ ~ ~ ~ ~ ~ ~ ~ ~ ~ ~ ~ ~
Official Sponsor for Celtic Guest Artist Concerts on the Willits  Community Theatre Stage!
Celtic Heritage Destinations Travel Agency, Willits, CA
Thank you
Celtic Heritage Destinations Travel Agency
of Willits!
Contact us for more information on how you can sponsor a Guest Artist concert!
phone us at
707-459-0895
 e mail us at
WCT@WillitsOnline.Com
or
 use the contact page on this site to email the webmaster!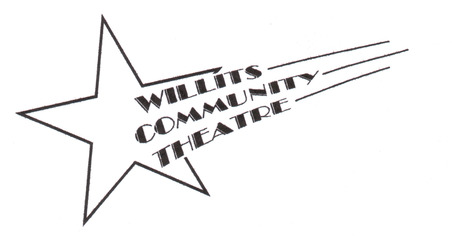 There is still time to be included in the Playbill for CLUE THE MUSICAL.
The WCT Playbill is a great way to advertise! As always, our ads are viewed by consumers who appreciate your involvement with WCT and in return support your business. The WCT Playbill program incorporates interesting articles and information as well as business ads that are read by our patrons as they experience a night at their community playhouse. Advertising in the Playbill helps your business and ours!
(For more advertising opportunities please contact Chrystina Patterson ?702-686-6953)
?You may mail-in your business card w/payment to:
Willits Community Theatre
P.O. Box 80
Willits, CA 95490