Second Stages and Independent Productions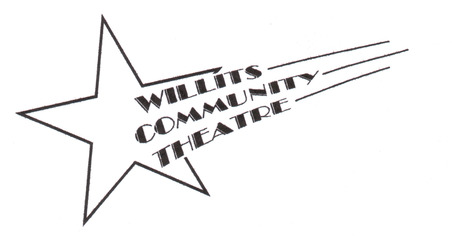 Willits Community Theatre wishes you and your family a

Merry Christmas




May the spirit of theatre bring you and your family inspiration, laughter, and joy.




Please follow us on Facebook:
2019 Second Stages, Readings and Monologues !
Save the Dates!
~*~*~*~*~
Saturday June 8th, 2019 at 7pm  & Sunday June 9th, 2019 at 2 pm ~
Monologues Performance!
Monologue night coming to WCT
Speakeasy VI, a program of diverse and exciting monologues, comes to The Willits Community Theater on Saturday June 8, 2019 at 7 P.M. and Sunday June 9, 2019 at 2 PM.  
Show coordinator Emmy Good said recently, "Ann and Don Samson created this show, now in its 6th year, It has developed a popular following locally. A monologue can be on any topic, true or fantasy. Sometimes we are moved to tears of laughter and other times tears of sadness. There may even be some experimental improv which could be interesting." 
Tickets will be available on line at brownpapertickets.com, by phone at 800-838-3006, in person at Mazahar, 38 South Main Street in Willits, or at the door. Historically, tickets have sold out quickly so get your tickets early. For these two shows, seating will be "festival seating", that is, no assigned seating. 
PRESS CONTACT PERSON – MIKE A'DAIR    459-1576
~*~*~*~