Upcoming Performances
Welcome to the Willits Community Theatre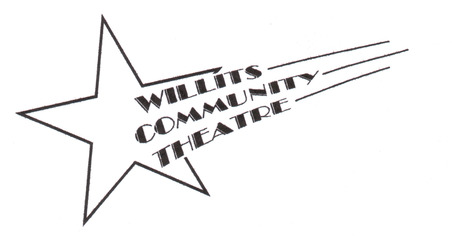 "To enter a theatre for a performance is to be inducted into a magical space, to be ushered into the sacred arena of the imagination."
~ Simon Callow, Charles Dickens and the Great Theatre of the World
Come enjoy outstanding live performances in our intimate venue!
(Pssssssst! keep reading for more detailed news about the 2019 Season Lineup!)
The News We All Have Been Waiting For: (drum roll)
Up Next!
Sneak Preview: 2020 Season!!
~!~!~!~!~!~!~!~
February 7 – 23, 2020
Doubt: A Parable
Playwright:

 

John Patrick Shanley
Director:

 

Steve Marston
It's 1964, and things are changing, to the chagrin of rigid principal Sister Aloysius. However, when an unconscionable accusation is leveled against the Father, Sister Aloysius realizes that the only way to get justice is to create it herself. And as for the truth of the matter? As Father Flynn says, "Doubt can be a bond as powerful and sustaining as certainty." In stunning prose, John Patrick Shanley delves into the murky shadows of moral certainty, his characters always balancing on the thin line between truth and consequences. An exquisite, potent drama that will raise questions and answer none, leaving the audience to grapple with the discomfort of their uncertainties. Winner of the 2005 Pulitzer Prize for Drama and the 2005 Tony Award for Best Play.
~*~*~
April 10 – 26, 2020

The Winter's Tale

Playwright:  William Shakespeare

Director:  Mike Adair

A classic, late-Shakespearean romance, this play tells the story of the fictional King Leontes of Sicily, who is consumed by jealousy when he suspects his wife, Queen Hermione, of having had an affair with is best friend, King Polixenes of Bohemia. Leontes' jealous rage wreaks havoc in his family; however, Shakespeare turns what starts out as a tragedy into a profound play about redemption, forgiveness and the triumph of life.
 ~*~*~
June 12-28, 2020 
Gardner and Fanny Church are preparing to move out of their Beacon Hill house to their summer cottage on Cape Cod. Gardner, once a famous poet, now is retired. He slips in and out of senility as his wife Fanny valiantly tries to keep them both afloat. They have asked their daughter, Mags, to come home and help them move. Mags agrees, for she hopes as well to finally paint their portrait. She is now on the verge of artistic celebrity herself and hopes, by painting her parents, to come to terms with them and they with her. Mags triumphs in the end as Fanny and Gardner actually step through the frame and become a work of art ineffable and timeless. Finalist, 1984 Pulitzer Prize in Drama.
~*~*~

June 30 – August 9, 2020
Youth Camp
~*~*~
October 2 – 18, 2020
Playwright:  Frederick Knott
This thriller is the story of Susy Hendrix, a recently blinded housewife who unwittingly possesses a doll filled with illicit drugs. Harry Roat, a brutal and sophisticated criminal, coerces two small-time thugs into helping him con Susy into giving up the doll. A battle of wits ensues as Susy and the young girl upstairs launch a counterplot against the thieves. The drama plays on the themes of darkness and light as Susy navigates through her sightless world, and the crooks signal each other with light through the Venetian blinds. Susy knows the only way to play fair is by her rules, so when darkness falls she turns off all the lights leaving them to maneuver in the dark until the game ends.
~*~*~
December 4 – 20, 2020
Send in the Elves:  Dec 4-20 (an original musical play)
Music & Lyrics by Paula Samonte and Sam Younghans
The trolls hate Christmas and devise a plan to keep Santa home on Christmas Eve. They pretend to kidnap Mrs. Claus in order to lure Santa to their ice cave to rescue her. Santa falls into their trap and is captured by the trolls. He won't be able to deliver toys to the boys and girls; will the trolls succeed in cancelling Christmas? Just in time, the elves discover the plot and rescue Santa. Christmas is saved! In the end, Santa, the elves and the trolls discover they actually have much in common. The trolls see the error of their ways and discover they don't need to be evil to be happy. Santa and the elves welcome the trolls into their happy fold. Singing, dancing and joy abound!
Thank you to Les Schwab Tire Center of Willits and NC Financial
for underwriting our 2019 season!
And Thanks to our Season Sponsors
Ace Copy Center, J.D. Redhouse, Savings Bank of Mendocino County and Yokum's Body Shop