Upcoming Performances
Welcome to the Willits Community Theatre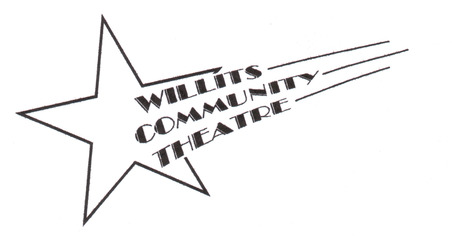 "To enter a theatre for a performance is to be inducted into a magical space, to be ushered into the sacred arena of the imagination."
~ Simon Callow, Charles Dickens and the Great Theatre of the World
Come enjoy outstanding live performances in our intimate venue!
(Pssssssst! keep reading for more detailed news about the 2019 Season Lineup!)
The News We All Have Been Waiting For: (drum roll)

UP   NEXT!
Legends!: April 12-28, 2019
Playwright: James Kirkwood, Jr.
The sure-fire comedy "Legends!", about two legendary aging actresses discovering a way to survive, will show at the Willits Community Theatre from April 18 to May 4. Written by James Kirkwood Jr, and directed by Bill Barksdale, the play centers on two one-time movie legends who are courted by a desperate young hot-shot producer to star in his Broadway show–"Star Wars: The Play". The fact that the two aging actresses have hated each other ever since the Hollywood publicity machine fabricated their feud decades ago poses the central challenge for these two legends to work together.
Playwright Kirkwood, a winner of the Tony Award and Pulitizer Prize for Drama, is most well-known for his famed hit, "A Chorus Line." He wrote "Legends!" specifically for two of Broadway's biggest stars, Mary Martin and Carol Channing.
In the WCT production, veteran director Barksdale brings his deft directorial touches to Kirkwood's comedic gem, a play that is all about these two great actresses struggling to reinvent themselves and their professional lives. Barksdale says, "The way this predicament shakes out leads to the deliciously hilarious results."
Starring in the show are Gretchen Anderson and Kathy deBane as the two living legends, with Christopher Martineau as the wheeler-dealer pushy young director, Mary Burns as a feisty maid, and Moises Torres and Anthony Sylstra in supporting roles. It's half the fun when Martineau offers one thing to the women and then comes in with something else in their contract, and they are set on getting their revenge over him. "It's a rollercoaster ride all the way," says Barksdale.
  "Legends!" will open on Thursday, April 18 with a special benefit performance sponsored by Emandal Chorale. Benefit tickets are available in advance through Tamara Adams at 459-9252. Regular shows are on April 19, 20, 25, 26, 27, 28, and May 2, 3 and 4. Tickets for the regular Thursday and Sunday performances are $15 and for Friday and Saturday shows $20. The final Saturday matinee is $15. Advance tickets for all regular shows are available in person at Mazahar, 38 S. Main St., Willits; online at Brown Paper Tickets or by phone 24/7 at 1-800-838-3006. Tickets will also be available at the door until sold out. The WCT playhouse is located at 37 W. Van Lane (behind Shanachie Pub).
Once the show gets going on board the roller-coaster everyone's up for a starring role, even Moises Torres as a human hunk, and the maid played by Mary Burns–with a little guiding help from the legends Gretchen Anderson and Kathy deBane.
It's a rocky affair before the two acting greats get over their feud and find a way to get along.
Sometimes it takes an officer of the law, played by Anthony Sylstra, to help two hot talents cool off their tempers.
Photos by Mathew Caine!
Director, Bill Barksdale
Note: All Thursday, Friday and Saturday Evening Perfomances in 2019 will begin at 7:30 pm. Sunday Matinees at 2 pm. 
Off the Map: June 21-July 7, 2019
Playwright: Joan Ackermann
Bo Groden, the main character and narrator, looks back at the summer when she was eleven years old
and her life changed. She spent her childhood with her mom, dad and occasional others in the wilds of
New Mexico. Enter William Gibbs – the IRS agent who took days to find them in order to discuss their
unpaid taxes and, arriving in a high fever, is cared for and falls in love with this quirky family. It is an off-
beat and loving comedy, with rich, warm characters. Through unswerving love and compassion, they
stumble into maturity, self-discovery and glorious moments of grace.
Director, Jim Williams
Note: All Thursday, Friday and Saturday Evening Perfomances in 2019 will begin at 7:30 pm. Sunday Matinees at 2 pm. 
Classes July 8 – Aug 8, 2019
Production TBD: Aug 9, 10, 16, 17, 18
I and You: October 4 – 20, 2019
Playwright: Lauren Gunderson
One afternoon, Anthony arrives unexpectedly at classmate Caroline's door bearing a beat-up copy of Walt
Whitman's Leaves of Grass, an urgent assignment from their high school English teacher. Homebound due
to illness, Caroline hasn't been to school in months, but she is as quick and sardonic as Anthony is
athletic, sensitive, and popular. As these two let down their guards and share their secrets, this seemingly
mundane poetry project unlocks a much deeper mystery that has brought them together. The play is an
ode to youth, life, love, and the strange beauty of human connectedness.
Director, Kelly Kesey
Note: All Thursday, Friday and Saturday Evening Perfomances in 2019 will begin at 7:30 pm. Sunday Matinees at 2 pm. 
Love's Labour's Lost: Nov 1-17, 2019
(to be produced at Willits High School; we'll encourage students to participate).
An early romantic comedy by the king of dramatists, William Shakespeare. The story concerns the King of
Navarre, who has convinced three of his courtiers to forgo the company of women for three years. All
goes well until the beautiful Princess of France arrives at court, with three equally beauteous ladies-in-
waiting. After the men discover that they're in love with the princess and her ladies, they abandon their
oaths and decide to pursue them. Sparks fly, and humor and poetry abound.
Note: All Thursday, Friday and Saturday Evening Perfomances in 2019 will begin at 7:30 pm. Sunday Matinees at 2 pm. 
Tickets for all Performances at WCT (other than First Thursdays) will be available for purchase online through Brown Paper Tickets.
Tickets also available:
In Person at Mazahar,
by phone any time 1-800-838-3006.
Also at the door if not sold out.
Advance tickets online, by 800# phone and at Mazahar close 2 hours before the show opens, so get your seats early or show up at the door to claim any unsold seats.
This series is all Reserved Seating. If you wish to have Accessible Seating in "Row A" ~ no stairs ~ please make sure to select Row A seats when making your purchase.
For more information at any time, phone WCT at 707-459-0895 (leave a message) or email wct@willitsonline.com
Thank you to Les Schwab Tire Center of Willits and NC Financial
for underwriting our 2019 season!
And Thanks to our Season Sponsors
Ace Copy Center, J.D. Redhouse, Savings Bank of Mendocino County and Yokum's Body Shop